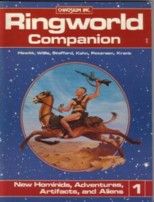 Sourcebook for Ringworld RPG by Chaosium.
The authors are credited as Greg Stafford?, John Hewitt?, Sherman Kahn?, Lynn Willis?, Sandy Petersen?, Rudy Kraft?, and Charlie Krank?.
The book starts with a diagram of the Ringworld and its star, EC-1752, new humanoids, aliens, plants and animals, technological objects, and original errata. There is some information on spaceships (Human and City Builder), hyperspace, a map of Human Space, and statistics for vehicles used on the Ringworld. Then there is a new race, the "Agamans", desert nomads, and a scenario involving them, "The Sand Eaters". Finally, there is a three part scenario named "The Kaladians", about the defense of travelling merchants. Totally 11 new hominids and description of six aliens species Thrintun, Tnuctipun, Pierin and three other ones.
Related: Guide to Larry Niven's Ringworld (1994, Kevin Stein?), Kzinti and Puppeteers
for GURPS Space.
Other sites: The Future Worlds of Larry Niven
, Wikipedia
, Ringworld RPG
,
---