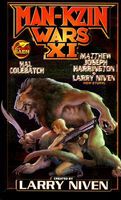 Man-Kzin Wars XI is an anthology with stories set in the Known Space Universe during the period called Man-Kzin Wars.
Three at Table - Hal Colebatch
Arthur Guthlac, a survivor of the Occupation and Liberation of Wunderland, discovers a mysterious woman and a wounded Kzin living in the wilderness.
Grossgeister Swamp - Hal Colebatch
Vaemar, last survivor of Chuut-Riit's bloodline, investigates a rash of disappearances and uncovers a horrifying secret deep in a Wunderland swamp.
Catspaws - Hal Colebatch
Colebatch's cast of characters—Vaemar, Nils Rykerman, Raargh, Arthur Guthlac and Dimity Carmody—encounter a Protector created from Wunderland's cave-dwelling Morlocks.
Teacher's Pet - Matthew Joseph Harrington
Fleeing the Kzinti, Peace Corben turns her stolen ship towards the failed colony planet of Home and discovers the real reason the world was abandoned. (Read the story all the way through to learn more about the spread of the Kdaptist sect among the Kzin.)
War and Peace - Matthew Joseph Harrington
Now a Protector, Peace Corben meddles in the later Man Kzin Wars in subtle and not-so-subtle ways.
The Hunting Park - Larry Niven
A group of Kzin ambassadors gain valuable insight into humanity when they barely survive an African safari.
Man-Kzin anthologies
The Man-Kzin Wars (1988, Larry Niven, Poul Anderson, Dean Ing)
Man-Kzin Wars II (1989, Dean Ing, Jerry Pournelle and S.M. Stirling)
Man-Kzin Wars III (1990, Larry Niven, Poul Anderson, Jerry Pournelle and S.M. Stirling)
Man-Kzin Wars IV (1991, Donald Kingsbury, Greg Bear and S.M. Stirling)
Man-Kzin Wars V (1992, Thomas T. Thomas, Jerry Pournelle and S.M. Stirling)
Man-Kzin Wars VI (1994, Donald Kingsbury, Mark O. Martin and Gregory Benford)
Man-Kzin Wars VII (1995, Hal Colebatch, Paul Chafe, Mark O. Martin and Gregory Benford)
Man-Kzin Wars VIII: Choosing Names (1998, Larry Niven, Hal Colebatch, Jean Lamb, Paul Chafe and Warren W. James)
The Best of All Possible Wars: The Best of the Man-Kzin Wars (1998)
Man-Kzin Wars IX (2002, Larry Niven, Poul Anderson, Hal Colebatch, Paul Chafe)
Man-Kzin Wars X: The Wunder War (2003, Hal Colebatch)
Man-Kzin Wars XI (2005, Larry Niven, Hal Colebatch and Matthew Joseph Harrington)
Man-Kzin Wars XII (2009, Paul Chafe, Hal Colebatch and Matthew Joseph Harrington)
Man-Kzin Wars XIII (2012, Hal Colebatch, Jessica Q. Fox?, Jane Lindskold, Charles E. Gannon, Alex Hernandez and David Bartell)
Man-Kzin novels
Cathouse: A Novel of the Man Kzin-Wars (1990 Dean Ing)
The Children's Hour: A Novel of the Man-Kzin Wars (1991, Jerry Pournelle and S. M. Stirling)
Inconstant Star (1991, Poul Anderson)
A Darker Geometry (1996, Mark O. Martin? and Gregory Benford)
The Houses of the Kzinti (2002, Dean Ing, Jerry Pournelle, S. M. Stirling)
Destiny's Forge: A Man-Kzin Wars Novel (2007, Paul Chafe)
Other books
Annals of the Man-Kzin-Wars: An Unofficial Companion Guide (Alan Michaud?, 2001)
Other sites and sources: The Future Worlds of Larry Niven
, Wikipedia
,
---