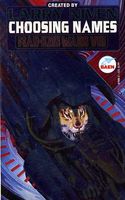 Man-Kzin Wars VIII: Choosing Names is a short story collection, an anthology, that was published in 1998. The stories take place in the Known Space Universe during the period called the Man-Kzin Wars.
Short story about a captured telepath, who demands his own Name in the wake of the first Kzin attack at Sol.
Telepath's Dance - Hal Colebatch
A sequel to Niven's "The Warriors", exploring what happened to the Angel's Pencil.
When the Kzinti take over of a patrol ship in the vicinity of earth, a female computer programmer helps to defeat the invaders by reprogramming the food synthesizers to weaken her foes.
A story of a Jotok scout coming to a pre-civilized Kzin world. Insight on early Kzinti civilization.
Slowboat Nightmare - Warren W. James
Another story about a slowboat taken over by a Kzin ship. The few human survivors must use every resource and weapon, and all their monkey cleverness, to take on the Kzin crew.
Other sites: Billion Light Years
,
Man-Kzin anthologies
The Man-Kzin Wars (1988, Larry Niven, Poul Anderson, Dean Ing)
Man-Kzin Wars II (1989, Dean Ing, Jerry Pournelle and S.M. Stirling)
Man-Kzin Wars III (1990, Larry Niven, Poul Anderson, Jerry Pournelle and S.M. Stirling)
Man-Kzin Wars IV (1991, Donald Kingsbury, Greg Bear and S.M. Stirling)
Man-Kzin Wars V (1992, Thomas T. Thomas, Jerry Pournelle and S.M. Stirling)
Man-Kzin Wars VI (1994, Donald Kingsbury, Mark O. Martin and Gregory Benford)
Man-Kzin Wars VII (1995, Hal Colebatch, Paul Chafe, Mark O. Martin and Gregory Benford)
Man-Kzin Wars VIII: Choosing Names (1998, Larry Niven, Hal Colebatch, Jean Lamb, Paul Chafe and Warren W. James)
The Best of All Possible Wars: The Best of the Man-Kzin Wars (1998)
Man-Kzin Wars IX (2002, Larry Niven, Poul Anderson, Hal Colebatch, Paul Chafe)
Man-Kzin Wars X: The Wunder War (2003, Hal Colebatch)
Man-Kzin Wars XI (2005, Larry Niven, Hal Colebatch and Matthew Joseph Harrington)
Man-Kzin Wars XII (2009, Paul Chafe, Hal Colebatch and Matthew Joseph Harrington)
Man-Kzin Wars XIII (2012, Hal Colebatch, Jessica Q. Fox?, Jane Lindskold, Charles E. Gannon, Alex Hernandez and David Bartell)
Man-Kzin novels
Cathouse: A Novel of the Man Kzin-Wars (1990 Dean Ing)
The Children's Hour: A Novel of the Man-Kzin Wars (1991, Jerry Pournelle and S. M. Stirling)
Inconstant Star (1991, Poul Anderson)
A Darker Geometry (1996, Mark O. Martin? and Gregory Benford)
The Houses of the Kzinti (2002, Dean Ing, Jerry Pournelle, S. M. Stirling)
Destiny's Forge: A Man-Kzin Wars Novel (2007, Paul Chafe)
Other books
Annals of the Man-Kzin-Wars: An Unofficial Companion Guide (Alan Michaud?, 2001)
Other sites and sources: The Future Worlds of Larry Niven
, Wikipedia
,
---