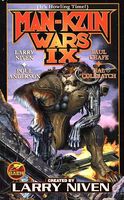 Man-Kzin Wars IX is an anthology with stories set in the Known Space Universe during the period called Man-Kzin Wars.
This is Poul Anderson's last published story. In this sequel to "Inconstant Star" the star Pele, thirty light years from Earth, is about to undergo a major cataclysm: a 10-Jupiter mass gas giant is about to be absorbed by the star. As the planet "Kumukhahi?" begins its deadly spiral, science ships from Earth and Kzin and a passenger ship containing Tyra Nordbo arrive to witness the destruction. Of course the dishonoured Kzin "Chrul-Captain" just can't resist being a hero and uses a prototype ship to get right in the middle of the action.
His Sergeant's Honor - Hal Colebatch
Set during the last days of the Kzin occupation of Wunderland, "His Sergeant's Honor" tells the story of Raargh-Sergeant, who defends the life of a collaborator who has been branded a traitor by the Provisional Free Wunderland Government, all for a sense of honor.
Windows of the Soul - Paul Chafe
Captain Joel Allson of the ARM has a murder on his hands when a dismembered body is found in a transport tube on the asteroid/space station world of Tiamat. Man and Kzin make strange bedfellows in this noir-ish detective thriller.
A short story that returns us to the adventures Beowulf Shaeffer, ex-pilot and adventurer.
Set after the events of "Procrustes" (see the collection Crashlander), Shaeffer finds himself onboard a passenger ship, the Odysseus, just as it is being captured by a ship of Kzinti pirates. Shaeffer is taken prisoner and develops an unusual alliance with a non-practising Kzinti Telepath, "Fly-by-Night" and his octopus-like Jotoki slave, "Paradoxical".
Man-Kzin anthologies
The Man-Kzin Wars (1988, Larry Niven, Poul Anderson, Dean Ing)
Man-Kzin Wars II (1989, Dean Ing, Jerry Pournelle and S.M. Stirling)
Man-Kzin Wars III (1990, Larry Niven, Poul Anderson, Jerry Pournelle and S.M. Stirling)
Man-Kzin Wars IV (1991, Donald Kingsbury, Greg Bear and S.M. Stirling)
Man-Kzin Wars V (1992, Thomas T. Thomas, Jerry Pournelle and S.M. Stirling)
Man-Kzin Wars VI (1994, Donald Kingsbury, Mark O. Martin and Gregory Benford)
Man-Kzin Wars VII (1995, Hal Colebatch, Paul Chafe, Mark O. Martin and Gregory Benford)
Man-Kzin Wars VIII: Choosing Names (1998, Larry Niven, Hal Colebatch, Jean Lamb, Paul Chafe and Warren W. James)
The Best of All Possible Wars: The Best of the Man-Kzin Wars (1998)
Man-Kzin Wars IX (2002, Larry Niven, Poul Anderson, Hal Colebatch, Paul Chafe)
Man-Kzin Wars X: The Wunder War (2003, Hal Colebatch)
Man-Kzin Wars XI (2005, Larry Niven, Hal Colebatch and Matthew Joseph Harrington)
Man-Kzin Wars XII (2009, Paul Chafe, Hal Colebatch and Matthew Joseph Harrington)
Man-Kzin Wars XIII (2012, Hal Colebatch, Matthew Joseph Harrington, Paul Chafe, Jessica Q. Fox?, Jane Lindskold, Charles E. Gannon, Alex Hernandez and David Bartell)
Man-Kzin novels
Cathouse: A Novel of the Man Kzin-Wars (1990 Dean Ing)
The Children's Hour: A Novel of the Man-Kzin Wars (1991, Jerry Pournelle and S. M. Stirling)
Inconstant Star (1991, Poul Anderson)
A Darker Geometry (1996, Mark O. Martin? and Gregory Benford)
The Houses of the Kzinti (2002, Dean Ing, Jerry Pournelle, S. M. Stirling)
Destiny's Forge: A Man-Kzin Wars Novel (2007, Paul Chafe)
Other books
Annals of the Man-Kzin-Wars: An Unofficial Companion Guide (Alan Michaud?, 2001)
Other sites and sources: The Future Worlds of Larry Niven
, Wikipedia
,
---