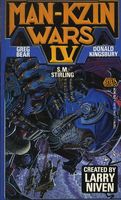 Collection of stories situated in Known Space Universe during the period called Man-Kzin Wars.
The Survivor - Donald Kingsbury
The disturbing life story of Short-Son of Chiirr-Nig, a rare cowardly Kzin (as a kit he earns the name Eater-of-Grass rather than fight) caught up in the conclusion of the first Man-Kzin war. This story introduces the Jotoki to Known Space and gives a detailed look into Kzin society, from the lowest ranks to the Patriarchy itself.
Also published in the collection The Space Opera Renaissance
The Man Who Would Be Kzin - Greg Bear & S.M. Stirling
Another slightly eerie story, this one about a human telepath posing as a Kzin and boarding one of their ships.
Also in The Best of All Possible Wars
Man-Kzin anthologies
The Man-Kzin Wars (1988, Larry Niven, Poul Anderson, Dean Ing)
Man-Kzin Wars II (1989, Dean Ing, Jerry Pournelle and S.M. Stirling)
Man-Kzin Wars III (1990, Larry Niven, Poul Anderson, Jerry Pournelle and S.M. Stirling)
Man-Kzin Wars IV (1991, Donald Kingsbury, Greg Bear and S.M. Stirling)
Man-Kzin Wars V (1992, Thomas T. Thomas, Jerry Pournelle and S.M. Stirling)
Man-Kzin Wars VI (1994, Donald Kingsbury, Mark O. Martin and Gregory Benford)
Man-Kzin Wars VII (1995, Hal Colebatch, Paul Chafe, Mark O. Martin and Gregory Benford)
Man-Kzin Wars VIII: Choosing Names (1998, Larry Niven, Hal Colebatch, Jean Lamb, Paul Chafe and Warren W. James)
The Best of All Possible Wars: The Best of the Man-Kzin Wars (1998)
Man-Kzin Wars IX (2002, Larry Niven, Poul Anderson, Hal Colebatch, Paul Chafe)
Man-Kzin Wars X: The Wunder War (2003, Hal Colebatch)
Man-Kzin Wars XI (2005, Larry Niven, Hal Colebatch and Matthew Joseph Harrington)
Man-Kzin Wars XII (2009, Paul Chafe, Hal Colebatch and Matthew Joseph Harrington)
Man-Kzin Wars XIII (2012, Hal Colebatch, Jessica Q. Fox?, Jane Lindskold, Charles E. Gannon, Alex Hernandez and David Bartell)
Man-Kzin novels
Cathouse: A Novel of the Man Kzin-Wars (1990 Dean Ing)
The Children's Hour: A Novel of the Man-Kzin Wars (1991, Jerry Pournelle and S. M. Stirling)
Inconstant Star (1991, Poul Anderson)
A Darker Geometry (1996, Mark O. Martin? and Gregory Benford)
The Houses of the Kzinti (2002, Dean Ing, Jerry Pournelle, S. M. Stirling)
Destiny's Forge: A Man-Kzin Wars Novel (2007, Paul Chafe)
Other books
Annals of the Man-Kzin-Wars: An Unofficial Companion Guide (Alan Michaud?, 2001)
More: The Future Worlds of Larry Niven
, Wikipedia
,
---