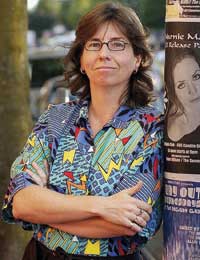 Lisa Smedman is a science fiction and fantasy author and journalist. Smedman first became known for gaming adventure novels and later published her own completely independent fantasy novels.
Smedman was born and raised in North Vancouver, British Columbia, Canada; a suburb of Vancouver. She earned a BA in anthropology from the University of British Columbia and a journalism diploma from Langara College in Vancouver.
In 1984, she began her professional writing career, first as a journalist then as a fiction writer. After her first job as a typesetter for a local publisher, Smedman has spent her entire career working as a reporter and editor at Vancouver-area weekly newspapers.She has worked at the Richmond Review, the Langley Times, and Sounder magazine. She has worked as an editor at the Vancouver Courier, writing local history articles. Smedman writes extensively on local history and has had two non-fiction books published on the history of Vancouver.
Several of her short science fiction and fantasy stories have been published in various magazines and anthologies, and in 1993 she was named a finalist in the Writers of the Future contest for science fiction and fantasy writers. She has also had three of her one-act plays produced by a Vancouver theater group.
By 1987, Smedman had become convention spokesperson for the 15th year of V-Con, the annual convention of the B.C. Science Fiction Association, that attracted about six hundred people.
In the late 1980s, Smedman began to write for Dragon magazine, which led to her writing her first gaming adventure for TSR, Inc.—the creators of Dungeons & Dragons—in 1993. After Dragon's Crown was released, Smedman wrote ten more adventures for TSR in the next three years. She has also designed a number of adventures and gaming products for Star Wars RPG?, Indiana Jones RPG, Cyberpunk, Immortal, Shatterzone RPG, Millennium's End, and Deadlands RPG. Her original games include Valhalla's Gate, a tabletop skirmish miniatures game drawn from Norse mythology and runic lore.
Smedman's first novel, The Lucifer Deck, was set in the Roc Books Shadowrun universe and published in 1997. She used her own childhood experiences with homosexuality to fashion a child protagonist who, after changing into a magical creature and being rejected by her family, finds herself homeless on the streets.
Eight more books followed The Lucifer Deck. Extinction, set in Wizards Of The Coast's Forgotten Realms universe, made the New York Times bestseller list in 2004.She also wrote the novel The Playback War, set in FASA's Vor: The Maelstrom universe.
In 2004, Smedman's tenth novel appeared; it was her first entirely independent work. The Apparition Trail is an alternate-history fantasy which posits an 1884 Western Canada where the power imbalance between the First Nations and European settlers exists in a universe with magic and alternate physics
Lisa Smedman is the author of Extinction, one of several novels set in the Dungeons & Dragons role-playing game's Forgotten Realms universe. Released in 2004, Extinction made the New York Times bestseller list for hardcover fiction.
After authoring several science fiction and fantasy novels, Lisa recently turned her hand to children's books. From Boneshakers to Choppers (2007) explores the social history of motorcycles. Her interest in motorcycles goes way back--as a teenager, Lisa enjoyed trips up the British Columbia coast, riding pillion on friends' motorcycles. She later purchased her own bike, a 50cc machine, to get around town.
Lisa is one of the founders of Adventures Unlimited, a magazine providing scenarios and tips for role-playing games. She has written short fiction for the Advanced Dungeons & Dragons role-playing game's Ravenloft and Dark Sun lines.
After working for more than 20 years as a journalist, Lisa now divides her time between writing fiction and contributing to the Vancouver Courier (she edits and writes the History's Lens column). Besides a diploma in journalism, she also has a degree in anthropology.
She lives in Richmond, British Columbia, with her wife, their son, four cats, and two pugs.
Space Opera RPG Books
Contact!, 1994 (reprinted 2013), with Dustin Browder, Sandy Addison & Evan Jamieson
Star Wars?
Galaxy Guide 12: Aliens — Enemies and Allies?, 1995, with C. Robert Carey?, Douglas S. Carey?, Harry Heckel?, Pablo Hidalgo?, Jean Rabe?, Peter Schweighofer, Trevor J. Wilson? and Bill Smith
---