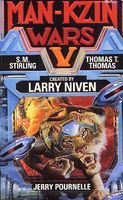 Short story by Jerry Pournelle and S.M. Stirling. First published in Man-Kzin Wars V (1992). Also published in The Best of All Possible Wars.
A distant sequel to "The Children's Hour" that pays homage to "The Treasure of the Sierra Madre
," as mistrustful human and Kzin work side-by-side in a gold mine and uncover an even deadlier treasure from the distant past.
Related: In the Hall of the Mountain King
(Peer Gynt),
---