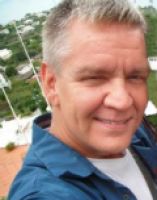 Greg Benage worked for Biohazard Games, publishers of Blue Planet (1997). Fantasy Flight Games arranged to publish a new edition of Jeff Barber's and Benage's Blue Planet, and as part of the arrangement FFG wanted one of the Biohazard team to come over to Fantasy Flight. Benage agreed and FFG spent 2000 pushing out an entirely new line of Blue Planet products.
Since the original mechanics of the game had never been very polished, Benage decided to rewrite them entirely, which resulted in a brand new "Synergy" system. Benage assisted lead designer Rob Vaughn on FFG's Fireborn. He was the designer of the Dragonstar RPG as well as a writer and designer for Stargate SG-1 RPG?.
Benage has written novels in the Eldernost fantasy series
.
Greg Benage lives with his wife, Maria, in Atlanta, Georgia. When he's not creating stories, Benage creates spreadsheets and PowerPoint presentations as a product manager for one of the largest commercial banks in the U.S.
Space Opera RPG Books
First Look: Dragonstar, 2001, article in Dragon Annual #6
Starfarer's Handbook, 2001, with Matt Forbeck
Guide to the Galaxy, 2001, with Matt Forbeck
Galactic Races, 2001, with Michael Ferguson, Scott Gearin, Darrell Hardy, Lysle Kapp, Lizard & Kevin Wilson
Imperial Supply, 2002, with Peter Schweighofer & William Timmins
Smuggler's Run, 2003, with Alexander Flagg & Will Hindmarch
Stargate?
Stargate SG-1 RPG Rulebook?, 2003, with Robert J Defendi?, Chris Dolunt?, Scott Gearin, Patrick Kapera?, Christina Kamnikar?, James Maliszewski, Don Mappin?, Rodney Thompson?, Rob Vaux?, Rob Wieland? and Kevin Wilson
Star Wars?
Edge of the Empire: Dangerous Covenants?, 2014, with Tim Cox?, Craig Gallant?, Sterling Hershey? and Sam Stewart?
More: Eldernost
---