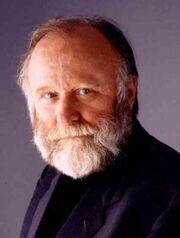 Franklin Patrick Herbert, Jr. (October 8, 1920 – February 11, 1986) was a critically acclaimed and commercially successful American science fiction author. Though also a short story author, he is best known for his novels, most notably Dune and its five sequels. The Dune saga, set in the distant future and taking place over millennia, deals with themes such as human survival and evolution, ecology, and the intersection of religion, politics and power. Dune itself is the "best-selling science fiction novel of all time," and the series is widely considered to be among the classics in the genre.
In 1952 Herbert's first science fiction story, "Looking for Something", was published in the April 1952 issue of Startling Stories, then a monthly edited by Samuel Mines. Three more of his stories appeared in 1954 issues of Astounding Science Fiction and Amazing Stories. His career as a novelist began in 1955 with the serial publication of Under Pressure in Astounding from November 1955; afterward it was issued as a book by Doubleday, The Dragon in the Sea. The story explored sanity and madness in the environment of a 21st-century submarine and predicted worldwide conflicts over oil consumption and production. It was a critical success but not a major commercial one.
Herbert began researching Dune in 1959. He was able to devote himself wholeheartedly to his writing career because his wife returned to work full-time as an advertising writer for department stores, becoming the breadwinner during the 1960s. He later told Willis E. McNeilly that the novel originated when he was supposed to do a magazine article on sand dunes in the Oregon Dunes near Florence, Oregon. He became too involved and ended up with far more raw material than needed for an article. The article was never written, but instead planted the seed that led to Dune.
Dune took six years of research and writing to complete and it was much longer than commercial science fiction of the time was supposed to run. Analog (the renamed Astounding, still edited by John W. Campbell) published it in two parts comprising eight installments, "Dune World" from December 1963 and "Prophet of Dune" in 1965.12 It was then rejected by nearly twenty book publishers. One editor prophetically wrote, "I might be making the mistake of the decade, but ...".
Sterling E. Lanier, an editor of Chilton Book Company (known mainly for its auto-repair manuals) had read the Dune serials and offered a $7,500 advance plus future royalties for the rights to publish them as a hardcover book. Herbert rewrote much of his text. Dune won the Nebula Award for Best Novel in 1965 and shared the Hugo Award in 1966 with ...And Call Me Conrad by Roger Zelazny. Dune was the first major ecological science fiction novel, embracing a multitude of sweeping, inter-related themes and multiple character viewpoints, a method that ran through all Herbert's mature work.
Dune was not immediately a bestseller. By 1968 Herbert had made $20,000 from it, far more than most science fiction novels of the time were generating, but not enough to let him take up full-time writing. However, the publication of Dune did open doors for him. He was the Seattle Post-Intelligencer's education writer from 1969 to 1972 and lecturer in general studies and interdisciplinary studies at the University of Washington (1970 – 1972). He worked in Vietnam and Pakistan as social and ecological consultant in 1972. In 1973 he was director-photographer of the television show The Tillers.
By 1972, Herbert retired from newspaper writing and became a full-time fiction writer. During the 1970s and 1980s, Herbert enjoyed considerable commercial success as an author. He divided his time between homes in Hawaii and Washington's Olympic Peninsula; his home in Port Townsend on the peninsula was intended to be an "ecological demonstration project". During this time he wrote numerous books and pushed ecological and philosophical ideas. He continued his Dune saga, following it with Dune Messiah, Children of Dune, and God Emperor of Dune. Other highlights were The Dosadi Experiment, The Godmakers, The White Plague and the books he wrote in partnership with Bill Ransom: The Jesus Incident, The Lazarus Effect, and The Ascension Factor which were sequels to Destination: Void. He also helped launch the career of Terry Brooks with a very positive review of Brooks' first novel, The Sword of Shannara, in 1977.
Herbert's change in fortune was shadowed by tragedy. In 1974, his wife Beverly Herbert underwent an operation for cancer. She lived ten more years, but her health was adversely impacted by the surgery. During this period, Herbert was the featured speaker at the Octocon II science fiction convention at the El Rancho Tropicana in Santa Rosa, California in October 1978; in 1979, he met anthropologist James Funaro with whom he conceived the Contact Conference. Beverly Herbert died on February 7, 1984, the same year that Heretics of Dune was published. In his afterword to 1985's Chapterhouse: Dune, Frank Herbert wrote a moving eulogy for his wife of 38 years.
1984 was a tumultuous year in Herbert's life. During this same year of his wife's death, his career took off with the release of David Lynch's? film version of Dune?. Despite high expectations, a big-budget production design and an A-list cast, the movie drew mostly poor reviews in the United States. However, despite a disappointing response in the USA, the film was a critical and commercial success in Europe and Japan.
Frank Herbert married Theresa Shackleford in 1985, the year he published Chapterhouse Dune, which tied up many of the saga's story threads. This would be Herbert's final single work (the anthology Eye was published that year, and Man of Two Worlds was published in 1986). He died of a massive pulmonary embolism while recovering from surgery for pancreatic cancer on February 11, 1986 in Madison, Wisconsin age 65. He was raised a Catholic but adopted Zen Buddhism as an adult.
In the summer of 2012, the estate of Herbert released a previously unpublished novel, High-Opp?, in e-book and paperback formats.
Space Opera Books
Novels
Dune (1965)
Dune Messiah (1969)
Children of Dune (1976)
God Emperor of Dune? (1981)
Heretics of Dune? (1984)
Chapterhouse: Dune? (1985)
Short stories
"The Road to Dune?" (1985)
Consentiency Universe?
Whipping Star? (1970)
The Dosadi Experiment? (1977)
Destination Void Universe?
Destination: Void? (1978).
The Jesus Incident? (with Bill Ransom) (1979).
The Lazarus Effect? (with Bill Ransom) (1983).
The Ascension Factor? (with Bill Ransom) (1988).
On the net: Wikipedia
, Dune Wikia
, Goodreads
, Dune Index
,
---