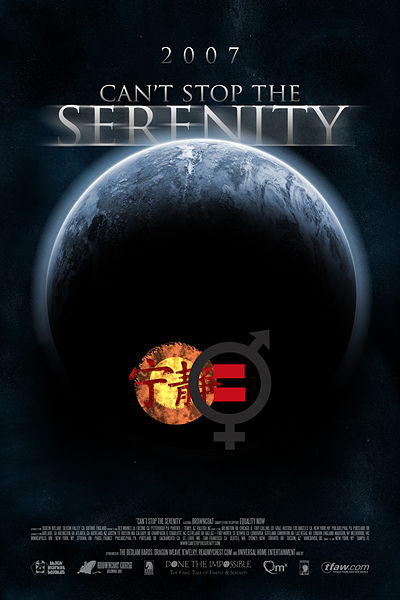 Firefly generated a loyal base of fans during its three-month original broadcast run on Fox in late 2002. These fans, self-styled Browncoats, used online forums to organize and try to save the series from being canceled by Fox only three months after its debut. Their efforts included raising money for an ad in Variety magazine and a postcard writing campaign to UPN. While unsuccessful in finding a network that would continue the show, their support led to a release of the series on DVD in December 2003. A subsequent fan campaign then raised over $14,000 in donations to have a purchased Firefly DVD set placed aboard 250 U.S. Navy ships by April 2004 for recreational viewing by their crews.
These and other continuing fan activities eventually persuaded Universal Studios to produce a feature film, Serenity. (The title of Serenity was chosen, according to Whedon?, because Fox still owned the rights to the name 'Firefly'). Numerous early screenings of rough film cuts were held for existing fans starting in May 2005 as an attempt to create a buzz to increase ticket sales when the final film cut was released widely on September 30, 2005. The film was not as commercially successful as fans had hoped, opening at number two and making only $40 million worldwide during its initial theatrical release.
On June 23, 2006, fans organized the first worldwide charity screenings of Serenity in 47 cities, dubbed as Can't Stop the Serenity
or CSTS, an homage to the movie's tagline, "Can't stop the signal". The event raised over $65,000 for Whedon's favorite charity, Equality Now. In 2007, $106,000 was raised; in 2008, $107,219; and in 2009, $137,331.
In July 2006, a fan-made documentary was released, titled Done the Impossible, and is commercially available. The documentary relates the story of the fans and how the show has affected them, and features interviews with Whedon and various cast members. Part of the DVD proceeds are donated to Equality Now.
A fan-made, not-for-profit, unofficial sequel to Serenity, titled Browncoats: Redemption, premiered at Dragon*Con 2010 on September 4, 2010. According to the film's creator and producer, Whedon gave "his blessing" to the project. The film was sold on DVD and Blu-ray at the film's website, with all proceeds being distributed among five charities. The film was also screened at various science-fiction conventions across the United States, with admission receipts similarly being donated. All sales ended on September 1, 2011, one year after its premiere, with total revenues exceeding $115,000. Community discussion continues regarding screenings in conjunction with the Can't Stop the Serenity project.
Firefly Films
Directed by Joss Whedon?
Produced by Barry Mendel?
Written by Joss Whedon
Serenity (2005) is about a spaceship called Serenity and it's crew, harboring a passenger, River Tam, with a deadly secret. The totalitarian Alliance governs the Universe. The Alliance send an assassin to bring River Tam back, while Mal Reynolds and his crew on Serenity find out how powerful she is and the truth about the hidden planet Miranda and the origin of the cannibal Reavers.
Michael C. Dougherty …. producer
Heather Fagan …. producer
Steven J. Fisher …. co-producer
Tara Harrelson …. associate producer
Brian Wiser …. producer
Browncoats: Redemption (2010) takes place three months after the signal is sent out regarding the events on Miranda. Captain Laura Mathews and the crew of Redemption are unintentionally thrown into a situation that some view as the potential catalyst for the second unified rise of the Independents against the Alliance, since Unification Day.
The River Tam videos (2005), sequenced out of chronological order, depict excerpts of counseling sessions between River Tam, played by Summer Glau, and her unnamed therapist, played by Whedon, while she is held at the Alliance Academy. They follow her change from shy and sweet child prodigy to the mentally unstable girl of the television series.
Done the Impossible is a 2006 documentary fan film of the TV series Firefly. Its main focus is on the fans themselves, how they came to love the show and ultimately, played a part in getting the film Serenity made.
More: Wikipedia
, Done the Impossible
, Browncoats: Redemption
, Can't Stop the Serenity
, Serenitymovie.net
---