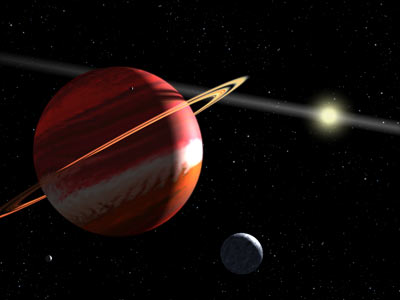 Epsilon Eridani
(ε Eri, ε Eridani) is a main-sequence star of spectral class K2. Only 10.5 light years (ly) away, it is the closest star in the constellation Eridanus, as well as the third closest star system visible to the naked eye. Its age is estimated at less than a billion years. Because of its relative youth, Epsilon Eridani has a higher level of magnetic activity than the Sun, with a stellar wind 30 times as strong. Its rotation period is a relatively rapid 11.2 days, although this varies by latitude. Epsilon Eridani is both smaller and less massive than the Sun, with a lower enrichment of elements other than hydrogen or helium.
The motion of this star along the line of sight to the Earth, known as the radial velocity, has been observed for more than twenty years. This data yields evidence of a gas giant planet orbiting Epsilon Eridani, making it the nearest extrasolar system with a candidate exoplanet. This unconfirmed object, conventionally known as Epsilon Eridani b, was formally announced in 2000 by a team of astronomers led by Artie Hatzes. However, the radial velocity data contain a high level of background noise due to the star's magnetic activity, and the existence of the proposed planet is not universally accepted. Current data indicate that the planet orbits in a period of about 7 years at a mean separation of 3.4 astronomical units (AU), corresponding to 505 million kilometers.
The system includes two debris belts composed of rocky asteroids; one at about 3 AU and the second at about 20 AU, whose structure may be maintained by a hypothetical second planet, Epsilon Eridani c. In addition, Epsilon Eridani harbors an extensive outer debris disk corresponding to the Solar System's Kuiper belt.
As one of the nearest Sun-like stars, Epsilon Eridani regularly appears in science fiction. The nearby star Luyten 726-8 will have a close encounter with Epsilon Eridani in about 31,500 years when they will be separated by about 0.93 ly.
In 1960, Philip Morrison and Giuseppe Cocconi proposed that extraterrestrial civilizations may be using radio signals for communication. Project Ozma
, headed by Frank Drake, used a radio telescope at Green Bank, West Virginia to search for such signals. Its targets were the nearby Sun-like stars Epsilon Eridani and Tau Ceti. They were observed at the emission frequency of neutral hydrogen, 1420 MHz, for a total of 150 hours over four months. However, no signals of intelligent extraterrestrial origin were detected. The experiment was repeated by Frank Drake in 2010, with the same negative result.
In Habitable Planets for Man, a 1964 RAND Corporation study by Stephen H. Dole, the odds of a habitable planet in orbit around Epsilon Eridani were estimated as 3.3%. For the purpose of the study, a habitable planet was defined to be an Earth-like planet that has the physical properties thought necessary for complex life forms to have evolved. Among the known stars within 22 ly, it was listed with the 14 stars that were thought most likely to have a habitable planet.
A new strategy in the search for extraterrestrial intelligence (SETI
) was proposed by William I. McLaughlin in 1977. He suggested that widely observable events such as novae explosions may be used by intelligent extraterrestrials to synchronize the transmission and reception of their signals. To test this concept, during a six month period in 1988 Epsilon Eridani was observed using a 40-foot radio telescope at the National Radio Astronomy Observatory in Green Bank, West Virginia, with Nova Cygni 1975 being used as the timer. However, no anomalous radio signals were observed.
Based on its location within 7.2 pc, Epsilon Eridani was among the target stars of Project Phoenix, a 1995 microwave survey for signals from extraterrestrial intelligence. By 2004 Project Phoenix
had checked about 800 stars, but had not yet detected an unimpeachable signal.
Epsilon Eridani in space opera:
---