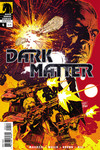 Abandoned by one of their own, the remaining crew members are trapped planet-side as enemies orbit their position. Outnumbered and outgunned, their only hope rests with a suicidal last stand--and help from a most unlikely source...
By Stargate series? writers Joseph Mallozzi and Paul Mullie
One of four comic books in the Dark Matter: Rebirth series.
Dark Matter #1
Dark Matter #2
Dark Matter #3
Dark Matter #4
Dark Matter Rebirth TPB
---