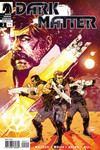 On the run, with no memory of who they are or where they are going, and being pursued by an unknown enemy, the crew unearths a clue buried deep within the ship's database. Their search for answers leads them to a remote world, an alien threat, and, ultimately, the startling truth about their past!
Fresh off their long tenure on Stargate, Joseph Mallozzi and Paul Mullie create a thrilling new science-fiction universe with kinetic pencils by exciting newcomer Garry Brown?!
One of four comic books in the Dark Matter: Rebirth series.
Dark Matter #1
Dark Matter #2
Dark Matter #3
Dark Matter #4
Dark Matter Rebirth TPB
---