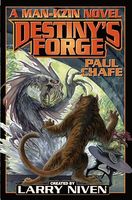 A novel in Man-Kzin Wars era of the Known Space Universe.
For fifty thousand years, the Kzinti Patriarchy thrived on interstellar conquest. Against all odds the humans stopped them, and for five wars kept on stopping them. With its violent expansion checked internal strains have built up in the Patriarchy, and now they threaten to tear it apart. When the ambitious Kchula-Tzaatz makes a bid for ultimate power the established order comes tumbling down, and the flames of war burn hot in Destiny's Forge.
Major Quacy Tskombe, battle hardened warrior turned diplomat. His life is duty, his mission takes him to the Citadel of the Patriarch in a last ditch effort to avert war. When it all falls apart he's forced to choose between love and loyalty, with the fate of humanity hanging in the balance.
Captain Ayla Cherenkova, starship commander. As talented as she is beautiful, her hatred of the Kzinti has driven her to the top. Her space combat genius is unmatched, but when she's trapped alone in the jungles of Kzinhome her survival will depend on a whole new skillset.
Pouncer, First-Son-of-Meerz-Rritt, heir apparent to the galaxy's most powerful empire. He's reduced to a nameless fugitive with the collapse of his father's dynasty. Survival demands escape, but honor demands vengeance, and the price of his Name will be paid in the blood of worlds.
Man-Kzin anthologies
The Man-Kzin Wars (1988, Larry Niven, Poul Anderson, Dean Ing)
Man-Kzin Wars II (1989, Dean Ing, Jerry Pournelle and S.M. Stirling)
Man-Kzin Wars III (1990, Larry Niven, Poul Anderson, Jerry Pournelle and S.M. Stirling)
Man-Kzin Wars IV (1991, Donald Kingsbury, Greg Bear and S.M. Stirling)
Man-Kzin Wars V (1992, Thomas T. Thomas, Jerry Pournelle and S.M. Stirling)
Man-Kzin Wars VI (1994, Donald Kingsbury, Mark O. Martin and Gregory Benford)
Man-Kzin Wars VII (1995, Hal Colebatch, Paul Chafe, Mark O. Martin and Gregory Benford)
Man-Kzin Wars VIII: Choosing Names (1998, Larry Niven, Hal Colebatch, Jean Lamb, Paul Chafe and Warren W. James?)
The Best of All Possible Wars: The Best of the Man-Kzin Wars (1998)
Man-Kzin Wars IX (2002, Larry Niven, Poul Anderson, Hal Colebatch, Paul Chafe)
Man-Kzin Wars X: The Wunder War (2003, Hal Colebatch)
Man-Kzin Wars XI (2005, Larry Niven, Hal Colebatch and Matthew Joseph Harrington)
Man-Kzin Wars XII (2009, Paul Chafe, Hal Colebatch and Matthew Joseph Harrington)
Man-Kzin Wars XIII (2012, Hal Colebatch, Jessica Q. Fox?, Jane Lindskold, Charles E. Gannon?, Alex Hernandez and David Bartell)
Man-Kzin novels
Cathouse: A Novel of the Man Kzin-Wars (1990 Dean Ing)
The Children's Hour: A Novel of the Man-Kzin Wars (1991, Jerry Pournelle and S. M. Stirling)
Inconstant Star (1991, Poul Anderson)
A Darker Geometry (1996, Mark O. Martin? and Gregory Benford)
The Houses of the Kzinti (2002, Dean Ing, Jerry Pournelle, S. M. Stirling)
Destiny's Forge: A Man-Kzin Wars Novel (2007, Paul Chafe)
Other books
Annals of the Man-Kzin-Wars: An Unofficial Companion Guide (Alan Michaud?, 2001)
Other sites and sources: Wyrd Net
, Wikipedia
, Destiny's Forge
,
---